14 Exclusive Private Farms - Only 30 Hunts Available.
CALL NOW! Last year we booked out!
65-100% shot opportunities most years | In 2017, 95% shot opportunity
One of the main deer species commonly found in Ohio, is the white-tailed deer.  Studies have revealed the number of white-tailed deer has drastically increased over the last twenty years and that they are easily found in selected places in Ohio. We are one of the Premier Guided Whitetail Deer Hunting Outfitters in Ohio. Let us start off by looking at some reasons why guided hunting is better than unsupervised hunting:
Experienced guides know specific location where the whitetail deer are likely to be found.
Guided whitetail deer hunts are quite adventurous as it is a combination of multiple activities. They range from preparing home style meals, accommodations and transportation services among others.
Unsupervised hunting can be frustrating and challenging if a person doesn't know what to hunt.
Are you tired of hunting on overcrowded public lands? If yes, we are what you have been looking for. Our staff will give you a hunting experience to the point you will be eager to call us for your next hunting trip. We have different hunting packages that our clients can choose from. There are two main whitetail deer a person can hunt, namely plains whitetails and mountain whitetails. Our guided whitetail deer hunts are open to anyone with a hunting license. 
2018 What a year! This year we had a 70+% shot opportunity. We had some amazing hunters and personalities from all over the United States. Lots of first-time hunters and youth that gave our most experienced hunters a run for their money. From Texas to Maine, South Carolina, Michigan, and West Virginia and everywhere in between. Head Guides Andy, Kyle and I are thankful and grateful for the opportunity to serve our Outdoor Community. We have lots of you returning for this upcoming season and exciting new things to come in 2019/2020
Check out our pics of the harvest and the 12 point that weight in at over 200 pounds!
(Yes it was field-dressed!)
Watch OGO's latest bear hunt visit to Van Hale Outfitters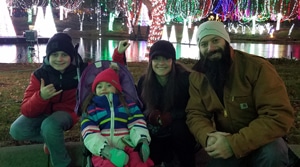 Matt & Jenny Pamer and Family